Science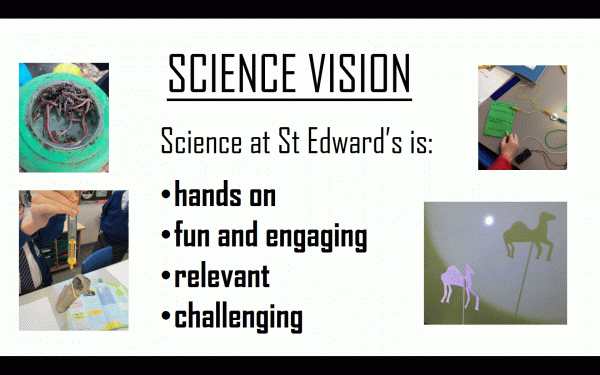 Science at St. Edward's Catholic School
Our school has begun work towards achieving the Primary Science Quality Mark Gilt Award from September 2019-21. Further information about this can be found at http://www.psqm.org.uk/what-is-psqm
As part of our work towards this, staff and pupils have contributed towards our Science Vision which was launched in January 2020.
Our aim is that children become more independent in finding out about and understanding the world they live in, through their time at St. Edward's Catholic School. To do that, they need to gain experience across the range of Working Scientifically enquiry types such as research, comparative and fair testing, pattern seeking, classifying and grouping and observation over time.
We try to give our children increasing opportunities to make decisions within their investigating so that they can solve problems, raise further questions and gain a deeper understanding.
At home, families can help their children by giving them opportunities to help with cooking, growing plants, spending time outdoors, taking part in sports, making things and visiting different places. Talking about what children see and notice encourages them to make links between what they do in school and everyday real life.